December 6, 2017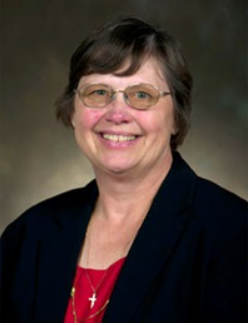 Dr. Rebecca Gryka, Chair and Professor of Pharmaceutical Sciences, came to Cedarville as a key founding faculty member in the School of Pharmacy after working in Southern California for 40 years. She played a pivotal role in launching the School of Pharmacy in fall 2012, and the School of Pharmacy is grateful for her influence on so many lives during her time at Cedarville. She will retire at the end of the 2017-18 academic year.
"I am so very thankful that God brought Dr. Gryka to Cedarville at a key time in our School's development. She has played a major role in our success," said Dr. Marc Sweeney, Dean of the School of Pharmacy."
Dr. Gryka will be remembered for one of her favorite sayings, "Just because it's hard, doesn't mean that's not what God wants you to do" and her commitment to follow Hebrews 12:1-3, "to run with endurance the race set before us." Her passion for teaching and investing in the lives of students is evident in graduate student Stephanie Wu's testimony:
"Dr. Gryka has impacted me in ways I will carry through the next three years years I have here at Cedarville. In my last year of undergrad, I questioned my abilities and strengths, but mostly I began to question if I had made a huge mistake going down the path of pharmacy. I questioned if I had heard God wrong and if this was all against His will for me. That's when I met Dr.Gryka. She sat with me every week as I walked through each system of the body. Some grades were lower than others, but here I am, a P1. I am continually thankful for her constant reminder that this will always be a battle, but to get up and try every day, no matter the outcome. She has been my cheerleader in the stands and my prayer warrior when I feel weak. Her passion for teaching and leading me is why I owe so much of where I am today."
Dr. Gryka was instrumental in the School of Pharmacy receiving full accreditation status and meeting every benchmark to pass in June 2016. She coordinated the clinical trial for Venture Therapeutics Projects and has contributed greatly to research and scholarship while at Cedarville. She also earned the Ohio Excellence in Education Award in 2016. She will cherish her memories of contributing to the success of the first graduating class in 2016 and is thankful for the time she had at Cedarville.
Posted in: Uncategorized