March 23, 2018
Our professional pharmacy students are gaining knowledge and experience that are preparing them to be leaders of the future in the field of pharmacy.
Student Receives National Pharmacy Honor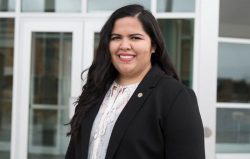 Professional pharmacy student Myriam Shaw Ojeda has been recognized as one of the nation's top up-and-coming pharmacy leaders by the American Pharmacists Association – Academy of Student Pharmacists. She was honored for her outstanding academic achievement and leadership ability.
Student Lands Summer Internship at Mayo Clinic

Professional Pharmacy student Meiling Norfolk landed a dream internship at the Mayo Clinic in Minneapolis, Minnesota, for summer 2018.
Student Appointed to Position on International Pharmacy Committee

Vineeta Rao, a third-year professional pharmacy student, has been appointed to a national leadership position on the American Pharmacists Association Academy of Student Pharmacists (APhA-ASP). She is one of four students in the country selected for this position.
Posted in: Uncategorized