March 23, 2018
Both on and off campus, the School of Pharmacy is making an impact on the pharmacy community. Our students benefit from engaging activities with members of the pharmacy community who come to campus, and our faculty members are making an impact on area pharmacy professionals as they teach in the local community.
Ferris State Professor Speaks on Campus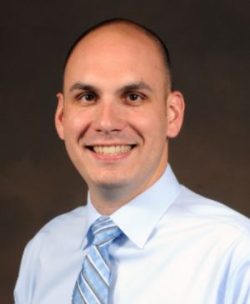 David Bright, Associate Professor, Department of Pharmaceutical Sciences at Ferris State University College of Pharmacy, visited Cedarville February 19, 2018, and presented "The Wheel of Life: Balancing Life as a Student Pharmacist." He also spoke to Dr. Aleda Chen's Drug Information class.
NACDS Training
The School of Pharmacy hosted the National Association of Chain Drug Stores (NACDS) for RxIMPACT training in January. Forty faculty members and students attended this informative session.  According to one student, "This will make me a better pharmacist, because it gives me a familiarity with the legislative process and how I could possibly impact policy in the future."
CU in the Morning PharmaCE Events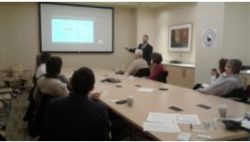 Each month, the School of Pharmacy hosts CU in the Morning PharmaCE events for area pharmacists.
In January, Dr. Melody Hartzler and Dr. Marc Sweeney shared about Starting Your Own Business at Soin Medical Center, Beavercreek.

In February, Dr. Andrew Shaw spoke at Soin Medical Center.

In March, Dr. Bethany Sibbit spoke on Oral Chemotherapy agents at Dayton Children's Hospital.
On-Campus Recruiting Events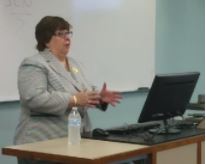 The School of Pharmacy hosted a Spring Interview Day on March 23, where five chain pharmacies (FruthPharmacy, Rite Aid, CVS, Walgreens, and Meijer) came to interview pharmacy technicians, interns, and new graduates. More than 35 interviews took place during this event.
Rite Aid recruiters came to campus to speak to students on  the "Do's and Don'ts on Interviewing."
Ghana Missions Trip Testimony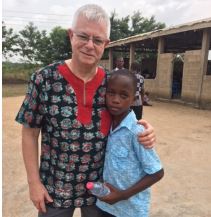 Retired pharmacist Phil Black came to campus to share his experiences on missions trips to Ghana. The School of Pharmacy is working on setting up a trip to Ghana for our faculty and staff next year.
Posted in: Community Events