February 26, 2015
Network Maintenance – Spring Break
The Network and Infrastructure Services team will be performing important maintenance during spring break. Please use the following diagram as a planning tool if you will be on campus next week.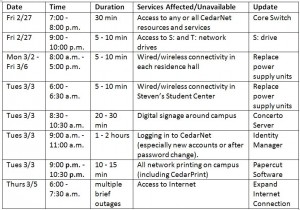 ​
Google Apps – Top Features from 2014
If you have an interest in further leveraging Google Apps in your current position, you might enjoy *one blogger's Top 10 Google Apps Features from 2014.
*Source: 'The Gooru's Top 10 Of 2014'. Ask the Gooru – Tips, Tricks, and Tools for Gmail & Google Apps 2015. Web. 26 Feb 2015.
Posted in: TechNews