July 14, 2015
Prizes for Two-Factor Security SetUp – Sign Up before Thurs. 7/16
Learn more about the benefits of Two-Factor Authentication (TFA). Protect your University account from unauthorized use. Easily set up TFA on your Cedarville account today using the Set Up and Use TFA help page. Faculty and staff who protect their University CedarNet account with Two-Factor Authentication before 7/16/15 will be entered in a drawing for one of five cool prizes: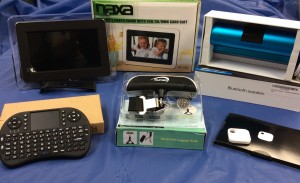 Digital Picture Frame
Bluetooth Speaker
Wireless Mini Keyboard
Digital luggage scale
Tile (for finding lost items)
Redwood Upgrade – Friday 7/17
The Information Systems and Services team will be migrating the Redwood server to new hardware beginning at 3:00 p.m. on Friday, July 17. The migration will take approximately 9-12 hours and during this time any system or service that derives it's data from the Redwood server will not function. Systems affected include: CedarInfo, Colleague, CUCMS, Informer, and the Maintenance Work Order system.
Used University Computer Sale
Used University desktop computers (Windows 7), laptops (Windows Vista), and 22″ monitors are available for sale.
View system and monitor availability, specifications, warranty, and pricing at the Used Computer Sale website.
Choose a pick up date of July 16, 17, 30, or 31 between 11:00 a.m. and 4:00 p.m.
Pre-order a used computer or monitor using the Used Computer Sale online order form.
Pay when you pick up your system by cash, check, or credit card.
Important Future Dates
Windows Updates (7/23, 8/20) The Network and Infrastructure Services team will perform monthly Windows server maintenance between 5:30 – 7:00 a.m. as scheduled. You may notice a brief outage with the main web server, as well as intermittent access to the Google mail login page.
Moodle Rosters (7/31) The rosters for all students enrolled in fall online classes will be uploaded on 7/31.
CedarNet Username Change (8/7) Recently married? Username too long? The CedarInfo transaction to request a change in your username is located under "Individual Transactions." The deadline for requesting changes this semester is Friday, August 7. The actual changes will be made on the morning of Monday, August 10.
Posted in: TechNews