April 23, 2019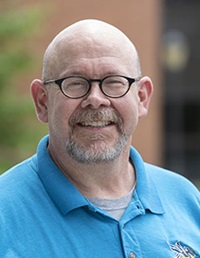 Scottie Crosby has been serving Cedarville University as a staff computer technician for the past 12 years.  He first started working at Cedarville in 2007 as a Help Desk Assistant in User Services.  Scottie is currently the IT Services and Support Coordinator. He is originally from Moultrie, Georgia and moved to the Springfield area in 2003. He has a background in mainframe computer operations and joined the Cedarville IT department after getting connected with Cedarville through church friends and university events. Previously, Scottie spent five years working in loan and deposit software support with a bank holding company. After moving to Springfield, he worked as a supervisor at a center for adults with developmental disabilities for five years.
Scottie and his wife Pam remain in the Springfield area with their three kids, ages 14, 11, and 9. He currently serves as the Information Technology Services and Support Coordinator. He is responsible for overseeing the activities of TechStop workers, making the arrangements necessary for TechStop to function well, and processing purchases and requisitions for TechStop and university technology. When asked about the most important aspect of his job, Scottie said that it is "providing excellent customer services for clients."
Scottie's advice for Cedarville students is to live out Colossians 3:23 by doing everything for the glory of God. In considering Scottie's work experience in providing software support, helping adults with disabilities, and now serving at TechStop, it is clear why he chose this verse. In customer service, each interaction can be an opportunity to represent Christ by serving someone well. Scottie supervises and assists a team of students who regularly help Cedarville students and staff with technology repairs. His team reflects Colossians 3:23 well, and the services they provide allow others to do the same.
Posted in: IT Newsletter Articles