June 9, 2021
New Sign-in to Adobe Creative Cloud
Information Technology is continuing to update the sign-in pages of Cedarville University services in an effort to enable a seamless single-sign-on experience from the new MyCU Portal. Effective this Friday, June 11, the sign-in page for Adobe Creative Cloud will use the new sign-in page. The new sign-in page requires you to authenticate using your full Cedarville.edu email address and password. For additional details, go to the following pages:
At the Adobe sign-in page below, enter your full Cedarville email address, click Continue, and then click "Company or School Account" at the next prompt.
You will be then taken to the new Cedarville sign-in page shown below where you will sign in again using your full Cedarville email address. Click Next and enter your password when prompted.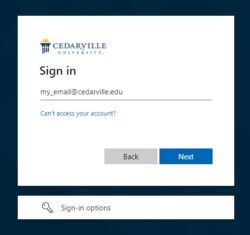 Posted in: Announcements, TechNews