February 9, 2023
Attention Cedarville students!
The Center for the Advancement of Cybersecurity
along with Information Technology are putting on
the second-ever Cyber Movie Night!
Please join us Friday, February 10 in ENS 245 at 7:00
p.m. as we show the film TRON: LEGACY.
Dr. Seth Hamman, the Cyber Center Director, will give a
short primer before the film. Popcorn will be provided
courtesy of CU IT.
"Sam Flynn, the tech-savvy 27-year-old son of Kevin Flynn, looks
into his father's disappearance and finds himself pulled into the
same world of fierce programs and gladiatorial games where his
father has been living for 20 years. Along with Kevin's loyal confidant
Quorra, father and son embark on a life-and-death journey across a
visually-stunning cyber universe that has become far more
advanced and exceedingly dangerous. Meanwhile, the malevolent
program CLU, who dominates the digital world, plans to invade the
real world and will stop at nothing to prevent their escape" [IMDb].
This Cyber Movie Event is sponsored by The Center for the Advancement of
Cybersecurity and the Information Technology Department.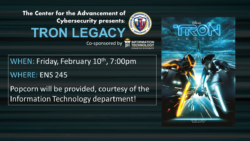 Posted in: TechNews