November 1, 2013
Google just pushed out a navigation change to Google Apps. Here is a quick look and explanation: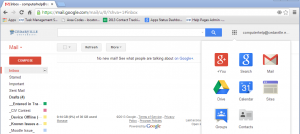 What Happened to My Google Toolbar?
The upper toolbar –which used to contain tabs for your University email, calendar, contacts, etc.– has been replaced.
So… How Do I Get to My Calendar, Contacts and Other Google Apps?
You will log in to your University email as usual.
In the upper right of your email screen (next to your email address), is a new "Apps" icon Inline image –
Click the Apps icon and your favorite Google Apps will appear (see screenshot above).
What if I Have Questions?
If you have any technology questions, please reply
Posted in: TechNews